By Captain Mike on August 12, 2017

---

Pricing is becoming a real problem for the business model I have created for fishing guides to earn 6 and 7 figure incomes. Competitors are slashing prices and customers are taking the bait.  The customer is looking for a deal rather than the high end guide service you built with my proven strategies. So what do … Continue reading Raise Your Prices When Competitors Lower Them →

By Captain Mike on July 20, 2017

---

As a fishing guide, you are an expert in marketing, sales, customer service, fishing, tourism, accounting etc. I think you get the point… If you have read the manual, you know most guides fail when they focus too much on fishing and not the business aspects of being a tour guide. Typically in the past, being … Continue reading Use T-Shirts To Build Your Brand →

By Captain Mike on January 1, 2017

---

There have been times when I've received a call from the father of a family or four or more who wants to book a charter for the entire family but is working from a limited budget. Scheduling a second boat and captain to handle the extra customers had been a challenge for my operation. Sometimes, the second boat simply isn't feasible or it may not be worth the extra "sweet talking" to bring in that second captain.

If you recall from our overflow business model there is money to be made here and is well worth the effort but certain families just won't be able to afford to charter two boats. So, I could only accommodate three anglers at a time. What to do?

The beauty of my Charter Fishing business model is that many of my clients are simply looking to experience something that they cannot experience at home – and catching a trophy species isn't a top priority. However, providing a good time on the water for their children IS A PRIORITY for the mother and father.
Testimonials
"Having charter fished for charities for years I
decided to start chartering for additional income. This required a major change in my operations. I came across Captain Mikes manual ("The Charter Fishing Business Kit" ) and after reading a small trial sample I was hooked. The entire manual is chocked full of useful info and written to be simple and act as a blueprint. I can say without hesitation that his real world experience with
starting and running a business in this field is laid out on the pages in a blueprint format the anyone can follow and learn from. Thank you Captain Mike and I look forward to your updates! "

"Everyone can always benefit on some great tips on being more successful in an industry that is highly competitive. Capt. Mikes book gives you all the details on how to improve your charter business and stay up with the changing times on how to best promote your business. Being in a highly competitive area, these guidelines have me on my way to be a success!"

"As an established guide, I came across this business kit and thought If I could learn a few things from it, then it would be worth the cost. Well, let's just say I don't want my competition to have this kit! The book is awesome and reveals some great marketing tactics for my website, along with social marketing that I knew very little about. I love how easy it is too read and it fires me up from start to finish to go after new customers and treat my existing customers very well. I highly recommend this book to all levels of fishing guides especially if you are just starting out."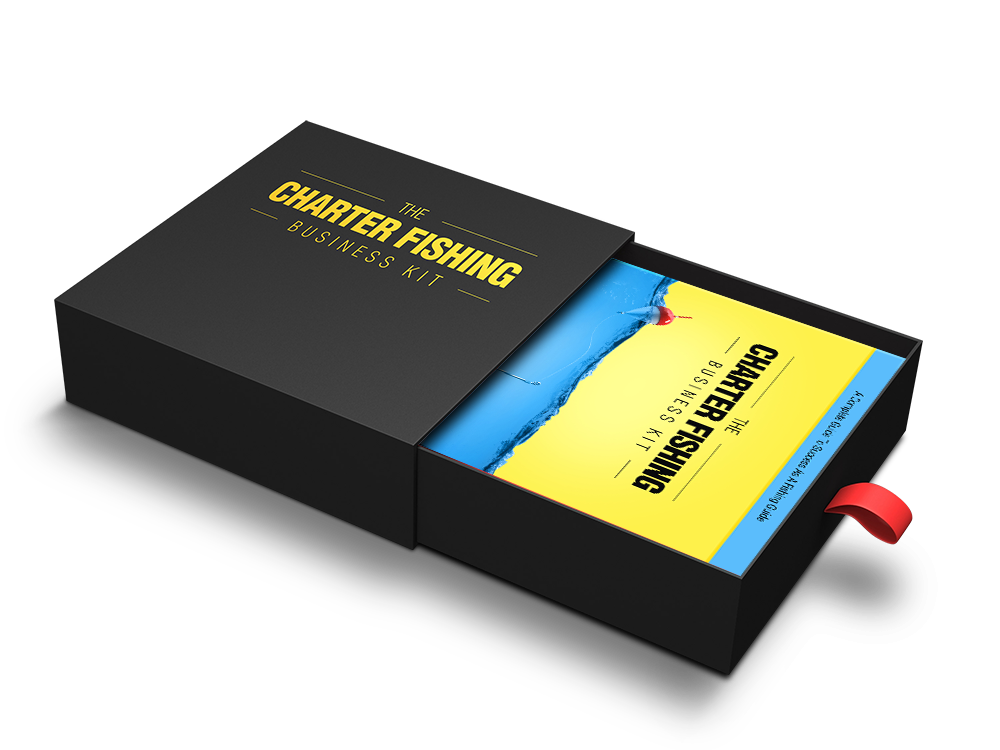 The Fishing Gift To Remember!
Are you looking for the perfect fishing gift for the family fisherman? Maybe your husband, father, brother or sister has toyed with the idea of turning their hobby into side or full time business.
The Charter Fishing Business Kit has been called the best fishing gift by many for a good reason. It's not your typical "fishing t-shirt" or piece of tackle. It is an opportunity for financial freedom by doing what they love.