Does He Fish So Much That He Should Be Making Money From It?
A successful fishing guide that does over 300 trips a year knows that catching trophy fish is not top priority. One that swings for the fences with top of the line boat and gear will soon find himself in a mountain of debt and a lack of customers.
How many 'Outstanding' fisherman do you know that aren't in the guiding business? Ask me how many fishing guides I have seen come and go that catch significantly more fish than most. And guess what, I book 10 times as many trips as they do and earn over 6 times their income!
How? I have developed proven strategies that ALL successful charter businesses need to run efficiently and book trips at the lowest cost. These unique methods were learned over years of working amongst the best fishing guides in the industry. From saltwater to freshwater, lakes to rivers, you are guaranteed to build a 6 figure charter business.
He will Love
The Business Side Of Fishing!
Most guides who adapt my proven methods STOP FISHING! That's right they don't fish after the first year. In fact, many of the guides that book over 500 trips a year don't fish at all.
And I support it 1000% and so does their bottom line.
You see a successful fishing guide that wants to make more than your average small
businessman cannot be fishing everyday, answering the calls, sending out newsletters,
writing fishing reports, etc. There just isn't enough time in the day or energy.
However, with my strategies I make it all fun. I give you the option to fish or not fish.
Either way, we are going to make a lot of money together doing what you love.
Introducing The Charter Fishing
Business Kit, The Manual To Building
A Successful Fishing Guide Business
This manual is your chance to save over 30 years of trial & error and stay ahead of the changing strategies that I use to book over 15,000 charters a year.
You will instantly start booking charters from this manual and if you are already established you will learn new techniques that double your trips booked while lowering cost. I guarantee it!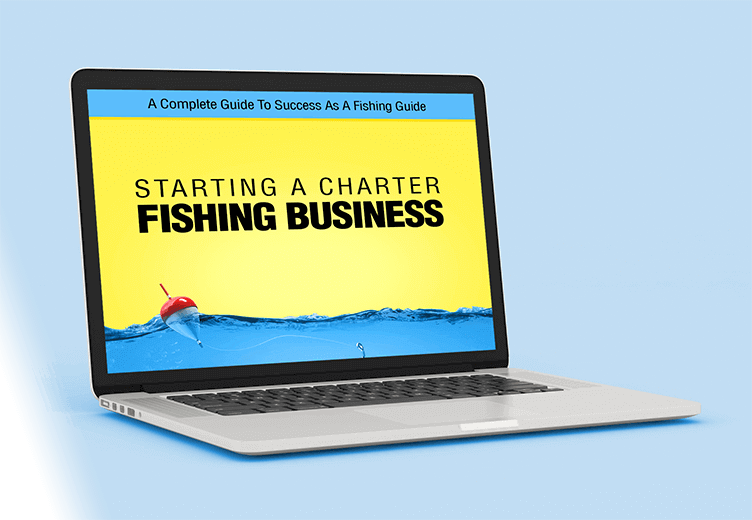 Why Become A Fishing Guide
Is being a fishing guide right for you. I have go over things you need to consider before giving up that day job including what you can expect to earn.
Marketing
Other guides hate me for giving new charter fishing business owners this information, but you need it and I want my readers to have an open look into this business and the changing strategies. From SEO to Pay-Per-Click, I am constantly updating the methods we use to book charters and I include them in a huge marketing chapter.
Setting Up Your Guide Business
From branding to naming your business, you will get a huge head start on do's and don'ts including licensing, regulations, corporate structure and guide insurance.
Reputation Management
Since when did reputation play such a big part in booking trips!? Well, since someone could go online and write a bad review! I have developed a fool proof method to keep the bad reviews off the popular sites, while gaining the most poetic positive reviews. 2017 is the year of reputation!
Choosing The Right Gear
Your type of guide business will determine the type of gear you choose to purchase, however let me make it easy for you and get sponsors to pay for all your gear.
Time To Go Fishing
So you went through all the trouble of getting all these calls and emails and you have a PayPal account full of deposits for the month or even better full up front payments! So, Let's Go Fishing. I go over how you will exceed expectations before you even leave the dock. Catching fish is the bonus!
Cash Flows
Allow me to help you to set prices, offer specials and accept multiple payment methods. I break down everything you will need to know about your cash and how to get more of it.
Up Selling
Yep, just like any other business we make money in up-selling. My secret sauce guide to 20% tips is included as a bonus. This accounts for an additional $50,000 for an average guide using my methods. I also include up sells for full day charters, taxidermy, t-shirts and photography.
That is Just The Beginning Of My Program, Time For You To Get Hooked Up!
This manual has seen fisherman just as yourself go from working a dead end job,
to booking over 300 trips a year and financial freedom.
Now is the time to become your own boss.
Don't Take My Word For It, Hear It From Them:
"Captain Mike. Wanted to thank you for writing such an informative book. After reading "how to start a charter fishing business" I realised that I was missing a ton of new business due to an old and out of date web site. After communicating with you on what I could do to improve it, I decided to have you build a new one for me. Wow, the results were and have remained outstanding. I am overbooking now and having to hire other captains to handle my overflow and booking trips late into fall up here on Lake Erie when I usually ready to put the boat away. Thanks again for your great service and the extra cash in my pocket. Best Fishes. Jim Celebrating 35 guiding & 31 years in sports broadcasting!"
What's Included:
The definitive manual to catching customers

(ebook, immediate download)
Let me unleash trade secrets to you as a new or established guide. You will get unlimited products updates as we adapt to changing strategies. You won't want to put this book down from the second you open it. This will act as a reference book as your grow your guide service. Whether you want to become a full time guide making over $100,000 per year or a part time guide that makes an extra $4,000 per month fishing weekends, this 'Manual' will get you hooked up.
Lifetime Access and Unlimited Updates
You will become a life long friend of me, Captain Mike. You will be emailed
updates to the book along with articles on the latest strategies I use to book thousands of dollars of charters each month.
You are first in line.
Bonus #1:

WordPress Website Templates ($4000 Value)

Get access to 5 WordPress templates that were designed and developed by SFC Design Group. These templates fit an extremely precise formula that do one thing, book charters! I hate calling these templates, because they are more like 'semi-custom websites'. Each website can be customized to add your own logo, text and photos very easily, making it your
own very quickly. These templates are the same exact process and foundation that go into $4,000 websites.

Bonus #2:

Charter Fishing Business Plan For Growth
(ebook, immediate download)

At some point you will decide to stay small or grow your business to accommodate the huge demand for your brand. You can't book more than 2-3 trips per day by yourself and you will get burned out eventually fishing that much. However, you can book multiple boats and guides. Grow your business the right way with this exclusive business plan.

Bonus #3:

Big Tips Bonus Pack, Increase Income by 25%!

Get my secret sauce to getting rewarded up to 25% on top of your charter price every trip! Most customers have no idea what a fair tip amount is, however they are more than willing to pay 15-25% because of the amazing time you fulfilled on their vacation. That's an average of $100 for every $500 trip. Get bigger tips and pack on add-on's such as t-shirts, hats and koozies. I give you the form that will increase your sales by 25% annually, GUARANTEED!

Bonus #4:

Social Media Bonus Pack

There is nothing more hot right now than Social Media. In fact, I book over 7 charters a week purely from Facebook at an extremely low price per booking. The most important aspect of Social Media aside from publishing content is to get customers to review you. We make it easier than ever for every customer who fishes with you to leave a Google, Facebook and/or Trip Advisor review. This is completely TOP SECRET and exclusively in the Business Kit.

Bonus #5:

Over $300 In Marketing Offers

ReelReports.com 2 Year Guide Listing ($240 Value)
Google Adwords $100 Coupon

ReelReports.com is one of the leaders in Fishing Guides across the globe. Once you get your website established, you may submit to ReelReports.com for a free 2 year listing using an exclusive coupon included with your business kit. Depending on your area, you charters booked will pay for this business kit instantly! You also get the Google juice from your listing.

Your Google Adwords coupon of $100 accounts for about 2-3 bookings on average, so pony up for some instant business!
Time To Go Fishing
There has never been a better time to start a charter fishing business or ramp up your charters. With the power of the internet, you can compete with the best of the competition instantly and in most cases leave them behind. Enjoy financial freedom and become your own boss. This is the only resource of it's kind and you can try it 100% Risk-Free (See Money Back Guarantee).
Hooked Up

$87

The Definitive Manual (173 Pages)
Growth Business Plan
All Bonus Packs
Reel Reports Guide Listing & Google Adwords Coupon
5 Website Templates
Beautiful Hard Copy Shipped

BUY NOW FOR $87
100% Money Back Guarantee For 30 Days!
I am a strong believer in my business kit and have poured thousands of hours into giving guides the best strategies to do what they love and make a very profitable living off it. I am so confident that you will love my book that I back it with a NO QUESTIONS ASKED, MONEY BACK GUARANTEE! Simply email me, "Your Book Sucks, I Want My Money Back" and I'll be more than happy to refund you immediately.
Testimonials
"Having charter fished for charities for years I
decided to start chartering for additional income. This required a major change in my operations. I came across Captain Mikes manual ("The Charter Fishing Business Kit" ) and after reading a small trial sample I was hooked. The entire manual is chocked full of useful info and written to be simple and act as a blueprint. I can say without hesitation that his real world experience with
starting and running a business in this field is laid out on the pages in a blueprint format the anyone can follow and learn from. Thank you Captain Mike and I look forward to your updates! "

"Everyone can always benefit on some great tips on being more successful in an industry that is highly competitive. Capt. Mikes book gives you all the details on how to improve your charter business and stay up with the changing times on how to best promote your business. Being in a highly competitive area, these guidelines have me on my way to be a success!"

"As an established guide, I came across this business kit and thought If I could learn a few things from it, then it would be worth the cost. Well, let's just say I don't want my competition to have this kit! The book is awesome and reveals some great marketing tactics for my website, along with social marketing that I knew very little about. I love how easy it is too read and it fires me up from start to finish to go after new customers and treat my existing customers very well. I highly recommend this book to all levels of fishing guides especially if you are just starting out."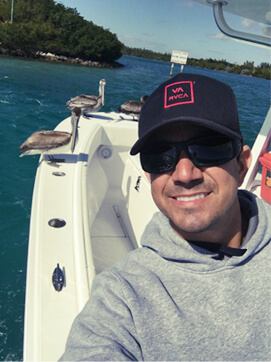 About me
Known as "The Guide To Guides" I have helped hundreds of established charter companies expand their business exponentially.
By using my secret sauce techniques and working with so many guides daily, I bring strategies to you in my business kit that allow you to get paid doing what you love everyday. Skip all the trial and error and grow your business with me, Captain Mike.
Frequently Asked Questions
Is The Business Kit Available As A Printed Hard Copy?
Sort of! This Business Kit is fully Digital, Meaning You Can Download Immediately And Begin To Read On Your Phone, Tablet or Computer. However, due to popular demand I offer the business kit in a beautiful print version that is shipped to your doorstep for an additional fee (The Perfect Fishing Gift!). Note, that my business kit is constantly changing as does marketing and free updates are available for download only.