We get it. You're a Charter Captain and your boat is a "working" boat. It's going to get dirty. Why bother keeping it spotless, right?
The Condition of Your boat Speaks Volumes About YOU
When your client meets you at the dock, the FIRST thing they notice is the condition of your boat – even before they pay attention to YOU. You need to ensure that your boat is as clean as can be. She should glisten in the sunlight!
We've been in the charter industry for a very long time and have spoken with countless clients. Nothing turns off a client quite like a boat with rust stains on the hull or a cockpit that has not seen soap suds in a month.
You Are in the Business of Delivering Value
As we have stressed before, you must deliver VALUE to your client. VALUE is what sets you apart from your competitors and will lead to the Holy Grail of the charter fishing business: Repeat Customers. Your clients are paying a good deal of their hard-earned money to fish with you. They don't have to fish with you. They CHOOSE to fish with you. They CHOOSE to spend hundreds or even thousands of dollars for several hours of fishing. Show your clients that you value their business by taking care of your boat. Don't you clean your house before your invited guests arrive for dinner? The same holds true for your boat.
What Else are You Neglecting? 
Whether you realize it or not, a dirty boat causes the clients to subconsciously ask themselves "If the captain neglects the boat like this, what ELSE is he neglecting? Will we break down on the water? Could we sink? Does this captain know what he's doing?"  As a captain, your clients are hiring you with the expectation that you have EVERYTHING under control and "ship shape." A dirty boat will cause clients to question your expertise before they even step foot aboard the boat. This is NOT GOOD.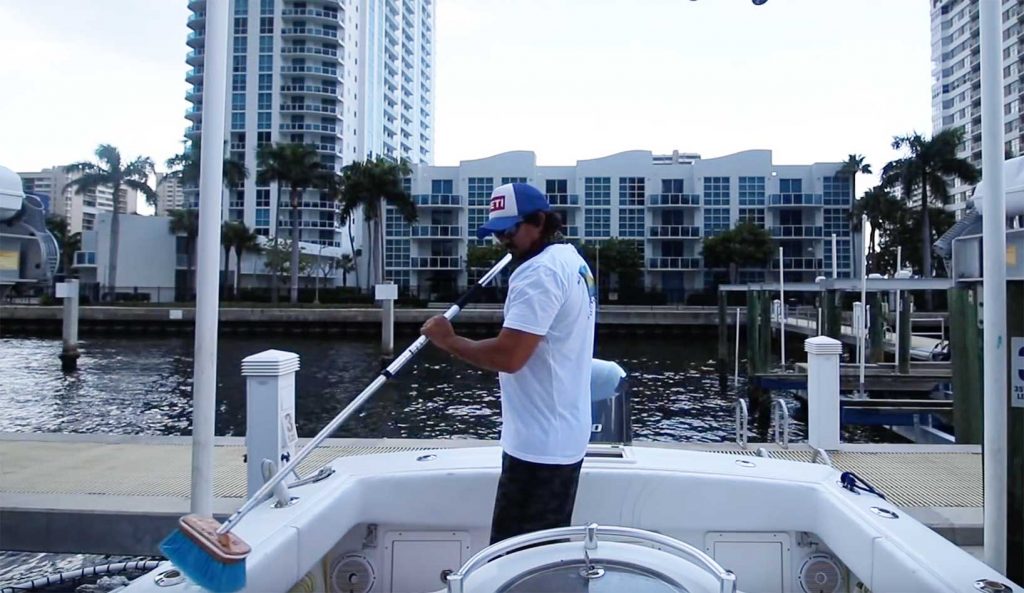 What Do I Do?
Like most things in life, all you need to do is to create a routine and to pay attention to detail when keeping your boat clean. Here are some things that we recommend:
Completely wash the boat with appropriate soap/cleaning agent after EVERY trip. Don't kid yourself into just rinsing the boat. You need to stay ahead of your boat or else you will fall behind
Once a year, have your boat professionally detailed. We found that it's always a good idea to start with a "clean slate" by having your boat professionally detailed, including compounding and waxing. It will be well worth the expense
Dry the boat after every wash
When you see rust forming on hinges, screws, joints clean and remove it immediately. Rust has a way of getting worse if ignored. You'd be amazed at how quickly a client notices a rusty screw on a hatch
Keep your hatches and storage areas clean too! Your clients are placing personal items in your hatches. Don't let them see dirt, mold, standing water in your boat
Use a towel or mat when welcoming clients aboard. This is a subtle yet effective way to get across to your client that you take pride in keeping you deck clean. It's also a good idea to ask clients not to wear dark-soled shoes when arriving to fish with you
A clean boat is a happy boat and a welcoming boat. Send the right message to your client before they step foot aboard your vessel and it will pay dividends.
Tight Lines,
Captain Mike